The Radio Programme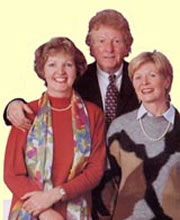 Peter Spence originally wrote To The Manor Born for radio. A pilot programme was recorded, but was never transmitted. It featured Penelope Keith as Audrey fforbes-Hamilton and Bernard Braden as the new American owner of Grantleigh Manor.
After the pilot was made, it was decided that the programme would be better suited to television. The scripts were rewritten, changing the new owner of the manor into a "businessman of Czech origin" in the process.
Fifteen years after the end of the final TV series, the writer brought the series 'home' to BBC radio, adapting six of the original scripts and adding four new ones.
Penelope Keith and Angela Thorne reprised their roles as Audrey fforbes-Hamilton and Marjory Frobisher, while Keith Barron took over the role of Richard de Vere.
The series was produced by Jane Berthoud and was broadcast on BBC Radio 2.
---
Episode Guide
Rhythms Of The Earth (25-Jan-97)
Audrey decides that Richard de Vere needs to be reminded of his duties as 'Lord of the Manor'.
The Grapevine (1-Feb-97)
Audrey doesn't want everyone to know that she can't afford to go on holiday, so she hides herself away in the Old Lodge.
What's In A Name? (8-Feb-97)
Audrey decides that she'll have to find a job.
Vive Le Sport (15-Feb-97)
Audrey hurts her back, but plans a speedy recovery when de Vere offers to take her skiing. Unfortunately, Richard manages to break a leg while he's learning to ski, so the trip has to be cancelled.
Sons Of The Fathers (22-Feb-97)
Is there a skeleton in Audrey's cupboard?
A Wife's Prerogative (1-Mar-97)
Richard talks Audrey into pretending to be his wife.
The Spare Room (8-Mar-97)
Podge Hodge, an old school friend, pays Audrey a visit.
An Englishman's Home (15-Mar-97)
Audrey declares war.
The Honours List (22-Mar-97)
There's a rumour that someone in the village is going to feature in the next Honours List. Audrey is convinced that the 'someone' is Richard de Vere.
Plenty More Fish (29-Mar-97)
It looks as if Audrey may finally have found herself a new husband.